Joint Statement: Alternative AI White Paper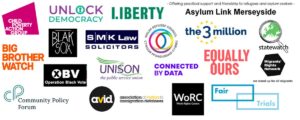 The Government's approach to regulation of artificial intelligence (AI), as set out in its AI regulation white paper, misses a vital opportunity to ensure that fundamental rights and democratic values are protected.
In particular, it fails to ensure that adequate safeguards and standards are in place for use of AI by public authorities.
The use of AI in public decision-making offers the promise of greater efficiency and accuracy.
However, there is also a risk of direct or indirect discrimination, and the exacerbation of existing inequalities. Regulation is essential to ensure that AI works for the public good.
As civil society groups who represent individuals and communities impacted by government use of automation and AI across the UK, we urge the UK Government to develop and implement AI regulation at minimum in line with the following principles:
1. Transparency must be mandatory
2. There must be clear mechanisms for accountability at every stage
3. The public should be consulted about new automated decision-making (ADM) tools before they are deployed by government
4. There must be a specialist regulator to enforce the regulatory regime and ensure people can seek redress when things go wrong
5. Uses of AI that threaten fundamental rights should be prohibited
These principles will require obligations in statute, which will need to build upon and work with existing data protection safeguards and our human rights framework. Instead of promoting existing standards, the Data Protection and Digital Information (No 2) Bill is weakening them, and threats to leave the European Convention on Human Rights – and legislation which disapplies parts of the Human Rights Act – are putting our human rights framework at risk. Effective AI regulation must strengthen, rather than undermine, existing protections.
Read the full statement: