Joint Briefing on the Public Order Bill for Report Stage in the House of Lords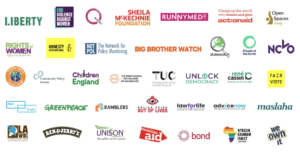 The Public Order Bill is a staggering escalation of the Government's clampdown on protest. Throughout its passage in the House of Lords, the Public Order Bill has been criticised by peers for being "draconian", "worrying," and "open to serious objection and in some ways misconceived." Most recently, five UN Special Rapporteurs have said that the Bill "could result in undue and grave restrictions" on civil liberties if not seriously amended.
The Community Policy Forum is part of a diverse coalition of 74 organisations opposing the Public Order Bill's anti-protest measures in their entirety. We urge peers to attend the Report Stage of the Public Order Bill, speak up to defend protest rights, and support amendments to mitigate its worst effects.
Read the full report: